SUIT UP! Clearly, a homage to all the great transforming sequences in anime and cartoons I grew up with. Can you hear the theme music playing in the background?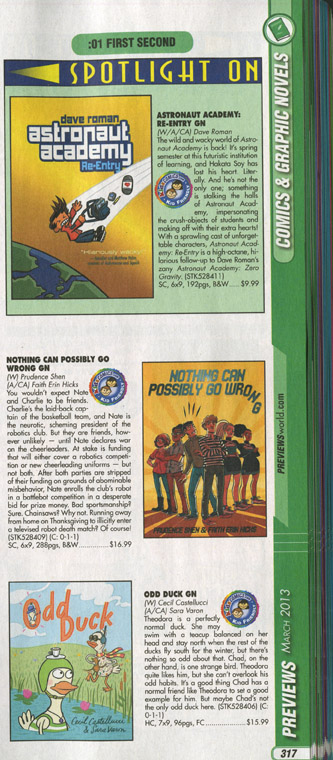 Seen here: AA in the current issue of Diamond's PREVIEWS catalog! Now is the time to ask your favorite comic shop if they'll order Astronaut Academy: Re-Entry and earn my eternal gratitude! Not every store can stock every book in print, so any help bringing awareness of AA to the world is super-appreciated! The first volume has also been re-solicited as well.
Bonus: the other two graphic novels published by First Second in May are by some of my favorite creators as well! Odd Duck by Cecil Castellucci and Sara Varon, and Nothing Can Possibly Go Wrong by Prudence Shen and Faith Erin Hicks are both going to be really rad books.
Can't tell you how much all your support means to me. I really want to be able to keep doing more books like this!
armor